Welcome to the webpage for the 2019 Race, Gender, and Technology THATCamp! 
The event will take place at TSU's Avon Williams campus from 8:30 to 4:00 p.m. on Friday, April 5, 2019.
Scroll down for more information, and register at the tab above.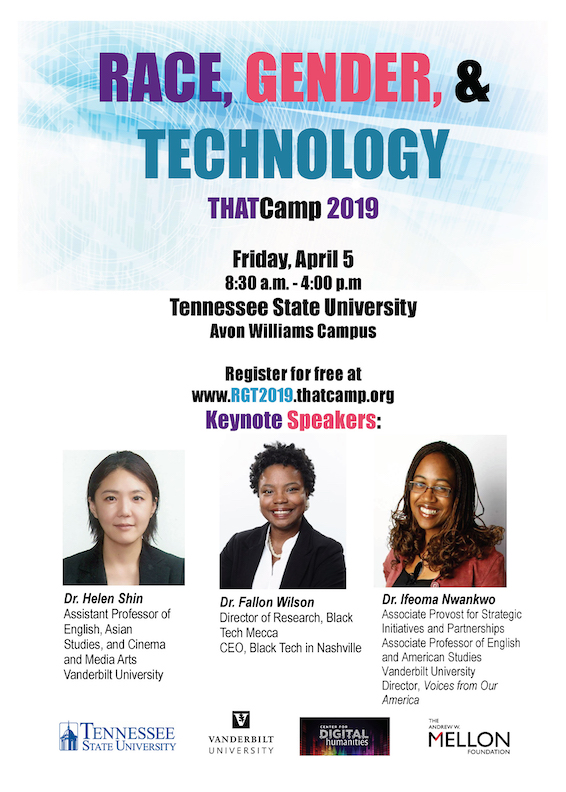 What is "THATCamp"?
A THATCamp is an "unconference," meaning that participation is open to all, and participants propose sessions and decide on an agenda in the first part of the day.  A rough schedule of events is available here: rgt2019.thatcamp.org/schedule/, but we won't fill in the details until we're all together on the morning of April 5.
How do you propose a session?
It's great to come to THATCamp already prepared with an idea of a session you'd like to propose.  In the first part of the day, we'll have an open round of session pitches — and prizes for the first people to stand up and propose their sessions!
What kind of session should you propose?
According to the THATCamp guidelines, "There are roughly four things people do in THATCamp sessions: Talk, Make, Teach, and Play….In a Talk session proposal, you offer to lead a group discussion on a topic or question of interest to you. In a Make session proposal, you offer to lead a small group in a hands-on collaborative working session with the aim of producing a draft document or piece of software. In a Teach session, you offer to teach a skill, either a "hard" skill or a "soft" skill. In a Play session, anything goes — you suggest literally playing a game, or playing around as a group with one or more technologies, or just doing something fun or original."  Sessions should have some relationship to the theme of Race, Gender, and Technology.
Read more about how unconferences in general and THATCamp in particular work at THATCamp 101 and our "About" page.